Why choose a mortgage broker over the bank?
August 7, 2018 | Posted by: Keith Leighton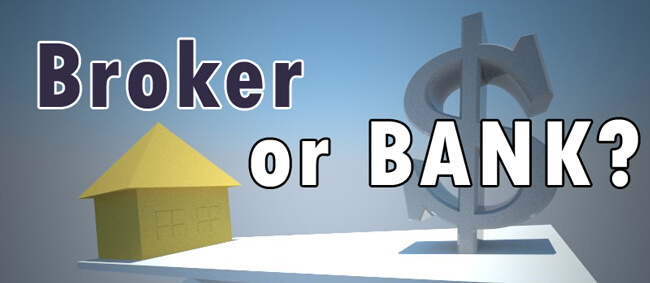 Why choose a mortgage broker over the bank?
According to a recent report from the Canadian Mortgage and Housing Corporation, nearly two-in-five homeowners in Canada used a broker for their mortgage in 2017. The 39 per cent figure was an increase from 33 per cent the previous year. The percentage is even higher among first-time home buyers.
Why are more and more people turning to mortgage brokers instead of the mortgage specialists employed by the banks?
While there is a generational gap at play; Millennials are constantly looking to do things differently than their parents and previous generations and are more likely to break from the traditional means of getting a mortgage. The mortgage broker industry has done a great job in the last decade of educating the public on the advantages of using a mortgage broker instead of a bank.
But there's more going on with the trend toward brokers. Mortgage brokers offer a level of service that can't be matched by a bank mortgage specialist.
Here's how.
Brokers work with dozens if not hundreds of different lenders and can almost always beat the rate from a bank, because the bank mortgage specialist has only one product to choose from.
Commissions for brokers are often much larger. The reason why a bank mortgage specialist never gives you their best rate is that it affects their commissions. A mortgage broker has the affordability to buy the rate down to outperform the best rate a bank can offer.
A mortgage broker isn't here to upsell. Brokers just do mortgages and the best brokers have years of experience in the industry. A bank mortgage specialist will try to sell you on other bank products like opening a new account, a credit card, or RRSP.
Call a mortgage broker and they'll either pick up the phone or get back to you within minutes. Need to sign a document on the weekend, a mortgage broker will come to your house at any time of the day.
Call a bank and it might be days before you hear from a mortgage specialist if at all. They're certainly not going to come to your weekend beach house to make sure all the I's are dotted, and T's crossed.
And the best brokers are more focused on the relationship with their clients over their commission. Like in any industry, there can be bad apples; brokers just looking at a commission from the file in front of them.
But a good broker isn't worried about the one file because they want to build a long-term relationship as a possible referral source if the file goes smoothly.
Best yet, the services of a broker are free. You don't pay anything to use their expertise.
If you're in the market for a new home or just looking to renew, it's in your best interest to call an Ideal Mortgage mortgage broker first.
Share This Page On: