13 First-Time Home Buyer Tips
August 5, 2021 | Posted by: Keith Leighton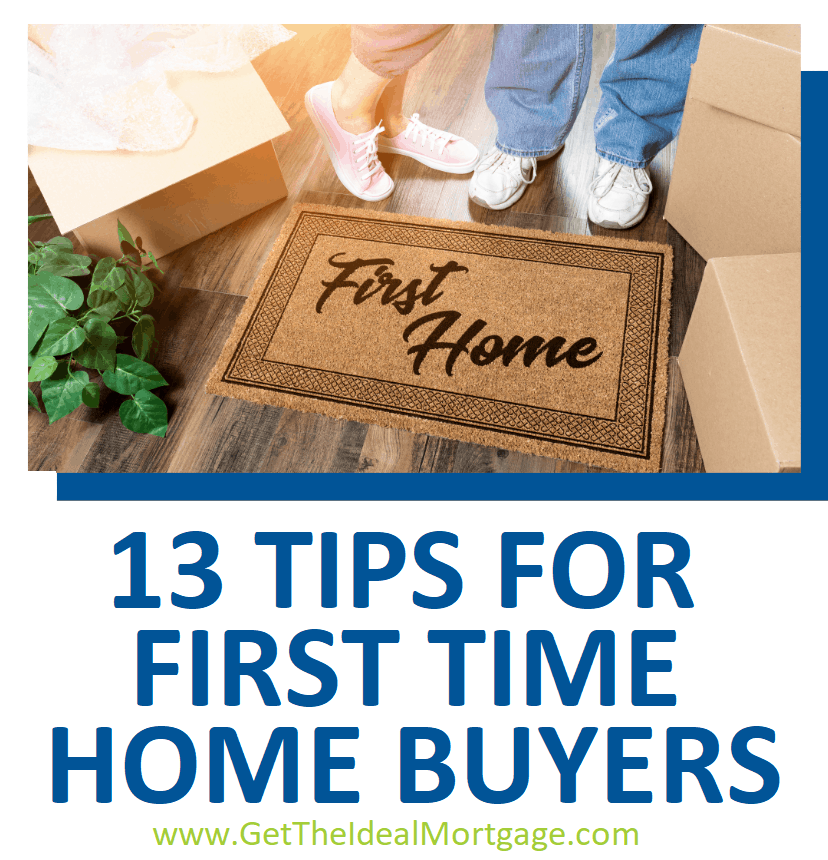 Being a first-time home buyer can be a fun and exciting experience, but it can also make you a bit nervous. It's easy to make mistakes along the way that can end up costing you later, especially since it's your first time. Let's look at 13 top first-time home buyer tips.
1. Get Pre-approved for a Mortgage - A mortgage pre-approval tells you how much you can afford to spend on a home based on your current income, down payment, and the existing mortgage rules. You can get pre-approved for a mortgage through a mortgage broker or a bank. There's absolutely no cost, so you have nothing to lose.
2. Have Your Deposit Money Ready - A common mistake from first-time home buyers is not having your deposit funds ready. If you're serious about buying a home, you'll want to have your deposit money ready in an easily accessible bank account.
3. Budget for Closing Costs - Closing costs are often referred to as the "hidden costs" of home buying and you can really be caught off guard by these extra expenses. Examples of common closing costs include home inspection, land transfer tax, real estate lawyer fees and HST on mortgage default insurance premiums. Your mortgage lender will not cover closing costs as part of the mortgage. Closing costs are your responsibility as the home buyer. Budget at least 1.5 % of the home purchase price towards closing costs. The lender will want to see that you have enough money sitting in your bank account to cover the down payment and closing costs.
4. Shop for an Appropriate Mortgage Product - The mortgage with the lowest rate can help save you hundreds, but the wrong mortgage product can cost you thousands. While pretty much all first-time home buyers are looking for a competitive mortgage rate, it's important not to lose sight of the other things that matter when shopping for a mortgage. Mortgage penalties matter and the banks are notorious for their costly mortgage penalties. That's why it makes sense to investigate other mortgage options with a mortgage broker and not just go with the bank because you have an account there.
5. Don't Change Jobs - It's important to discuss any changes you're considering making to your job situation with your mortgage broker because they could have a big impact on your mortgage pre-approval.
6. Don't Take on Additional Debt - Changing your credit situation can also affect your mortgage pre-approval. Lenders calculate mortgage debt ratios to make sure you can truly afford the mortgage that you're taking on. Problems arise when you take on new debt without first speaking with your mortgage broker. Likewise, you don't want to close any credit accounts without first speaking with your mortgage broker. If you close a credit card, it could result in something that's called "thin credit," which makes it harder to qualify for a mortgage.
7. Be flexlibe - Problems arise when you have a laundry list of home buying needs and wants. It's a good idea to come up with a list of the top five home buying needs and wants. Needs are things that you absolutely can't go without, such as a certain number of bedrooms. Wants are things that would be nice to have but aren't necessary. When you look at homes with your refined list of needs and wants in hand, you'll be a lot more likely to consider a home that you otherwise might not have.
8. Get a Home Inspection - When you skip the home inspection, it can lead to all sorts of problems. You could have to spend thousands on home repairs that you failed to budget for. It's better to know whether or not that the home is good shape.
9. Don't Plan to Move In on Your Closing Day - It's best to wait a few days after your closing date to move in. Sometimes things get delayed. Your property might not close until 5pm. That means the movers will be sitting in the driveway until then and you'll be paying them for nothing. It's also best to avoid moving in on the last day of the month. The last day of the month is the busiest for lawyers and movers. There's a good chance of important affairs getting delayed, so it's best to avoid it as much as possible.
10. Don't Withdraw Money from Your RRSP - If you're participating in the RRSP Home Buyer Plan (HBP), you'll want to make sure it's done right. Don't make the mistake of just withdrawing the money from your RRSP without filling in the appropriate paperwork.
11. Have an Emergency Fund - A good rule of thumb is to keep at least $5,000 in the bank in an emergency fund. This should be good to cover most emergency repairs like a broken furnace or a burst pipe.
12. Review the Purchase Agreement - Don't blindly sign documents, especially when it comes to a big purchase like a house. Take the time to review what you're signing. By reviewing the purchase agreement, you could have asked for amendments before signing. If you've already signed, usually it's too late by then to make changes.
13. Get Home Insurance - One of the most overlooked requirements for a home purchase is home insurance. In fact, many mortgage issuers will not issue a mortgage until you can prove that you have insurance in place on the property. This requirement protects their investment but also protects you from the moment you become a homeowner.
These tips can help you avoid some sticky situations when it comes time to buy your first home. Check out our blog for more tips and information on buying your first home. Happy house hunting!
For more information contact your DLC Ideal Mortgage professional today!
Share This Page On: