5 Things Home Buyers Always Forget During the Home Buying Process
November 4, 2022 | Posted by: Keith Leighton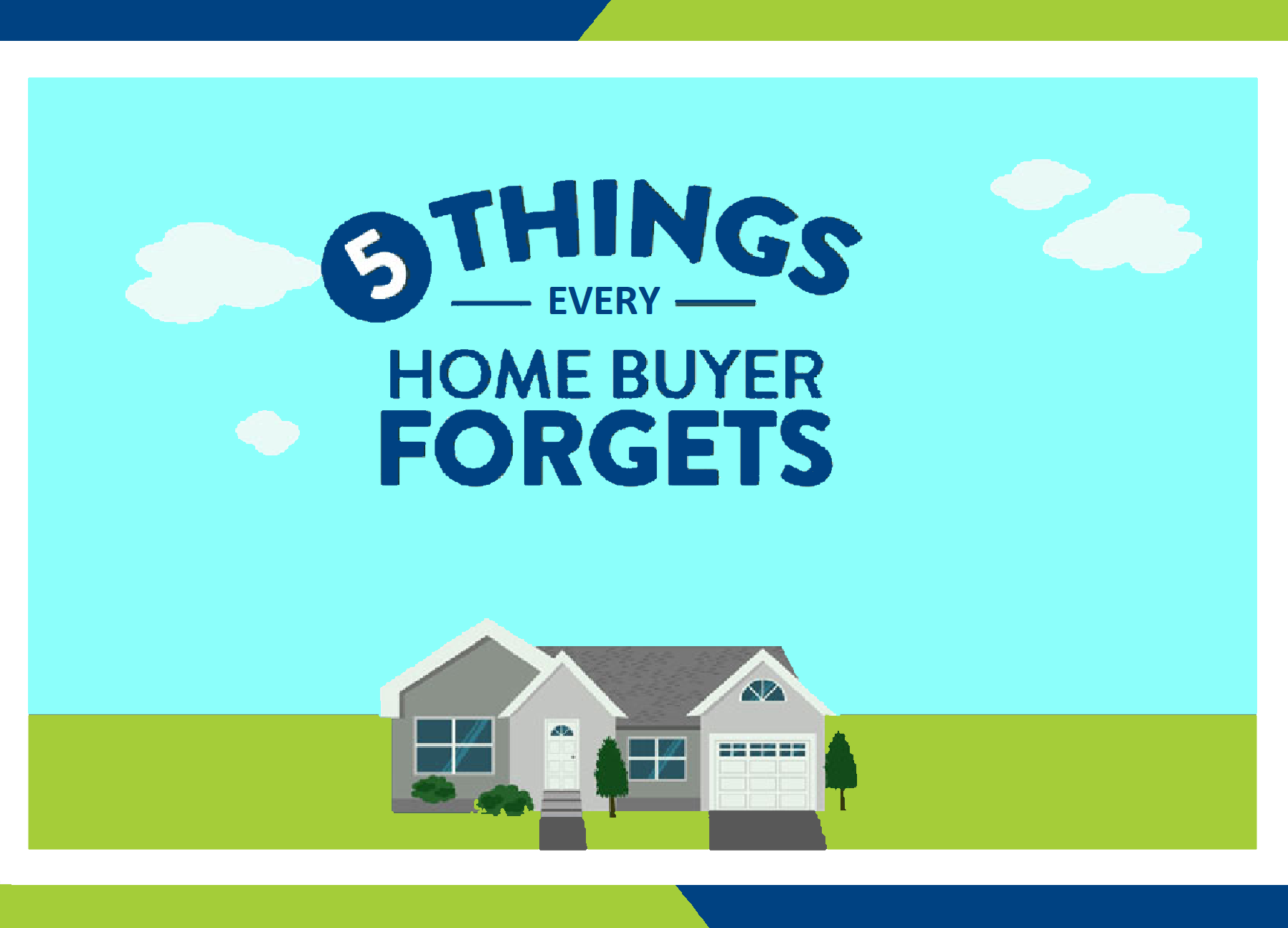 Five Things Home Buyers Always Forget During the Home Buying Process
Buying a home can sometimes feel slightly chaotic, especially if you're trying to sell your home at the same time! Home buyers have so much on their plates, especially when trying to find the perfect new house for their family. Sometimes home buyers completely forget about pretty important details that can make their home buying experience significantly easier. These are the top five things home buyers forget during the home buying process.
1 Knowing Their Budget
Regardless of if this is the first time a buyer has purchased a home or the buyer has bought and sold many houses, knowing the budget for a brand new home isn't easy. It's more than just factoring in a down payment and mortgage costs -- that's just a small slice of buying a new home.
Home buyers should determine a monthly budget for home ownership, factoring in the mortgage payment, utilities, repairs, maintenance costs, and any other extra expenditures. They should research the homes they're interested in to find out what the utilities normally cost and if there are any special fees for a Home Owner's Association or something of the sort.
Homeowners also need to get pre-approved for a mortgage before looking for homes. If they don't know what their lender will give them for a mortgage, then it's hard to know what homes they can afford.
2 Thinking About Resell Value
A home buyer has to think like a buyer, but also like a seller. A home is often the largest purchase the home buyer will ever make! They want to make sure that it's worth it … and that it will continue to be worth it for someone else down the line.
Although home buyers may not plan on moving anytime soon when purchasing a home, there's always a possibility of having to sell the home. Many home buyers don't think about this and end up stuck with a home that sells for less than anticipated down the line.
Home buyers should consider the home's location when considering buying. Check city records to ensure that there aren't any drawbacks in the works that will lower the property's value, like roads or view-ruining developments.
3 Researching the Neighborhood
If the homebuyer thinks they've found the perfect home, it may be all because of the rooms, the kitchen, the garage, or the backyard. However, home buyers often forget to take a look at the neighborhood and ensure it's going to work for their lifestyle.
Besides factoring greatly into the resell value of a home, if the home is located in a neighborhood that doesn't have good schools, a close grocery store, or has a bad reputation for crime, a home buyer may want to reconsider. It's also important that the home be within a reasonable distance from the home buyer's work if they're going to be commuting.
Buyers should take a look at the home at all times of the day. Visit in the mornings, afternoons, and evenings to see what the neighborhood is like. Then, they should start their work day by driving from the house to see what the commute time is like.
After checking the neighborhood, the home buyer will have a much better idea of whether or not the home is the right fit for them.
4 Making an Offer Contingent on a Home Inspection
Once a home buyer has made an offer on a home, the next big step is to get a home inspection. Making sure that the offer on the home is contingent on a home inspection is vital. If the home inspector finds something that would be costly or not up to code, the offer can be rescinded and the home buyers can continue searching for a home that works for them.
Many home buyers will completely skip this step or not pay as much attention to the findings as they should. Buyers should read through all the findings so they know exactly what they're getting when they purchase the property. Plus, without having a home inspection done, a home buyer can't negotiate with sellers on items that need to be repaired before selling the home or on the price!
5 Getting a Home Warranty
Whether the home buyer requests it in the sale contract, or they purchase it on their own after buying, a home warranty is an extremely important detail many homeowners forget!
A home warranty protects a home's aging systems and appliances. Since most buyers purchase homes that have already been lived in, the systems and appliances usually aren't brand new. These will inevitably fail, as all systems and appliances have shorter lifespans compared to the home's structure. When a buyer purchases a home, much of that lifespan has already been used up -- especially if the sellers didn't do preventative maintenance.
If you have any questions, don't hesitate to reach out to a DLC Ideal Mortgage professional for expert advice!
Share This Page On: