5 Mistakes Homeowners Make When Selling Their Home
March 17, 2023 | Posted by: Keith Leighton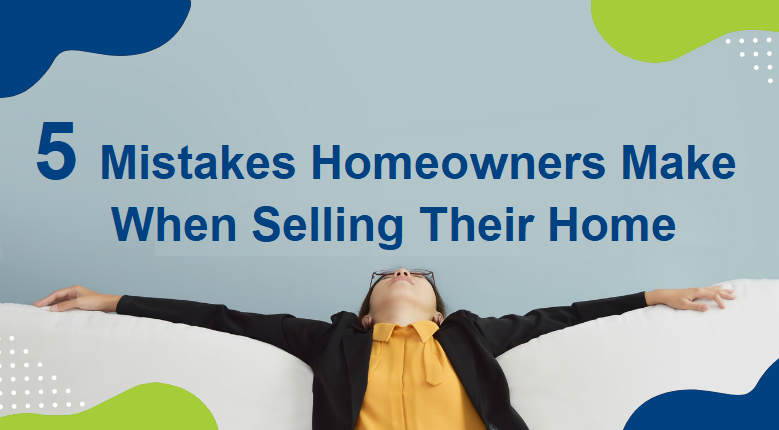 5 Mistakes Homeowners Make When Selling Their Home
Selling a home can be overwhelming, especially for first-timers. Curb appeal attracts buyers, but it can feel invasive when strangers scrutinize your property. Here are some common mistakes that can be avoided:

1. Overpricing the Property
Wanting the highest price for your home is expected, but an inflated price can harm the sale. No price offers result in months of listings, raising questions for potential buyers. Lowering the price becomes necessary to generate interest.

2. Getting Too Emotional
Selling your first home? It brings back memories and emotional attachment, but viewing yourself as an investor and handling the transaction financially yields the best outcome. A Realtor can assist with planning and marketing to maximize your home's sale price.

3. Skimping on Listing Images
During this coronavirus pandemic, property buyers prefer viewing homes online as well as virtual tours and video conferencing. Hence, you need to ensure the listing photos play an integral role in marketing your home. If possible, hire a professional real estate photographer. They understand what rooms and fixtures to capture in the photos that buyers look for. They also excel in delivering detailed and clear images of full-rooms or isolated close-ups to bring out the true feel and character of the property.

4. Selling the Home on Your Own
Amidst the pandemic, buyers prefer viewing homes online with virtual tours & video conferencing. Quality listing photos are key in marketing your home. Hire a professional real estate photographer to capture the rooms & fixtures buyers look for, with detailed & clear images enhancing the property's character.

5. Hiding Property Defects
Honesty and integrity are crucial when selling your property in real estate. Disclose any necessary information to buyers, even if it affects the property value. This builds trust and saves time and money in the long run.

For more information your DLC Ideal Mortgage expert today!
Share This Page On: