Problems Securing a Bank Mortgage? THINK Private Mortgage!
May 25, 2023 | Posted by: Keith Leighton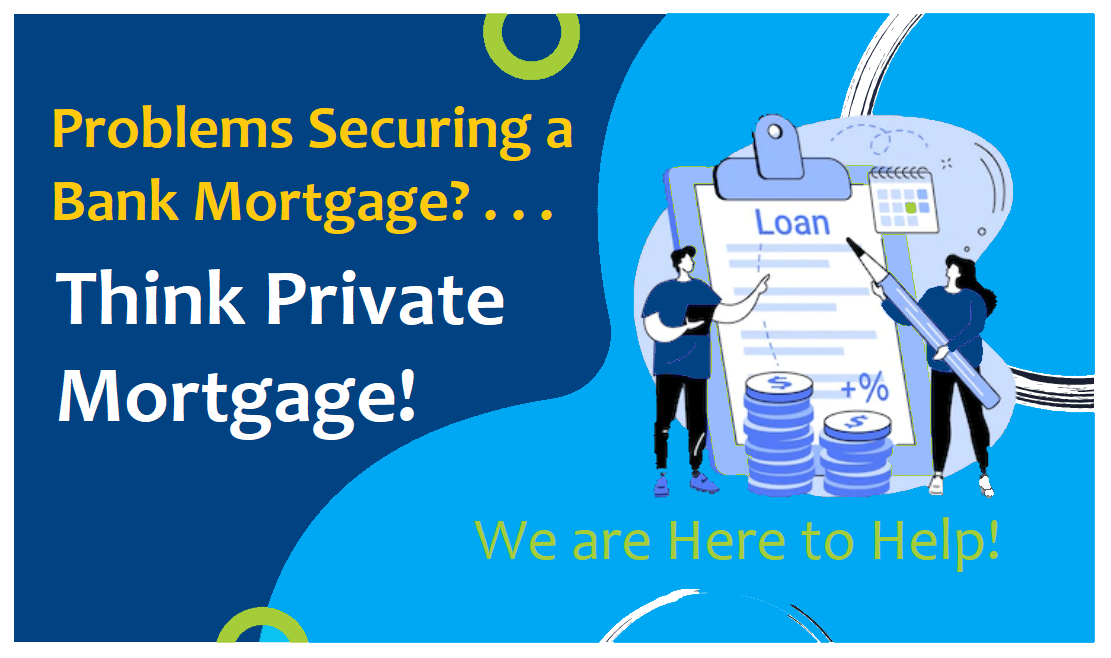 Problems Securing a Bank Mortgage?
THINK Private Mortgage!
Qualifying for mortgages nowadays can be challenging. Government regulations affect down payments, investment properties and high-ratio buyers, making fewer Canadians eligible for home loans.
Housing is vital for the Canadian economy. Federal regulations limit mortgage eligibility. Home financing has become extremely difficult for self-employed, rural residents, and those with poor credit histories and now the strain has spread to people of other population categories. As a result, Canadians are opting for private mortgage lenders. Private mortgages are a viable option for many borrowers, not just a last resort.
Private Mortgage Lenders Operate Differently from Banks
A private mortgage is a type of home loan that you can get from someone who isn't a bank or a usual lender.
The biggest benefits of private lenders is that they function differently from banks in many ways. Privately funded lenders set their own criteria. They're more flexible in the application process and don't have to follow strict guidelines set down by major banking institutions. Private mortgages may be the ideal choice if you don't meet traditional lending criteria.
Private mortgages are often suitable if you:
- Are self-employed
- Want to purchase land or exclusive property
- Have poor credit
- Want to purchase an investment property
- Want to access to equity in your home, without refinancing your first bank mortgage because of excessive penalties
- Want to consolidate high interest debt
- Want to renovate an existing property
- Need a short-term loan
How Private Mortgages Work
If you want to get a loan from a non-traditional lender, DLC Ideal Mortgage brokers offer alternative lending solutions. The broker will look at your situation to determine if you qualify for a mortgage and your ability to repay the mortgage. Broker fees and legal fees generally apply when securing a private mortgage.
The broker will find for the most suitable mortgage options that fulfills your specific requirements. Afterward, they will arrange the agreement and establish a strategy to exit the agreement and determine the term and the interest rate of the private mortgage that is being offered to you.
Private lenders usually lend based on location. Private mortgages are uninsured, so the property serves as collateral in the event of default. Location is crucial for private mortgage eligibility and rate.
Private mortgages are popular for borrowers that are beyond traditional lending guidelines. Many alternative lending solutions are available for financing your next property or major purchase.
If you are considering alternative lending options, don't hesitate to reach out to a DLC Ideal Mortgage expert today! We can help you locate and assist in choosing the most effective course of action for your situation.
Share This Page On: