How To Navigate the Mortgage Market
July 20, 2023 | Posted by: Keith Leighton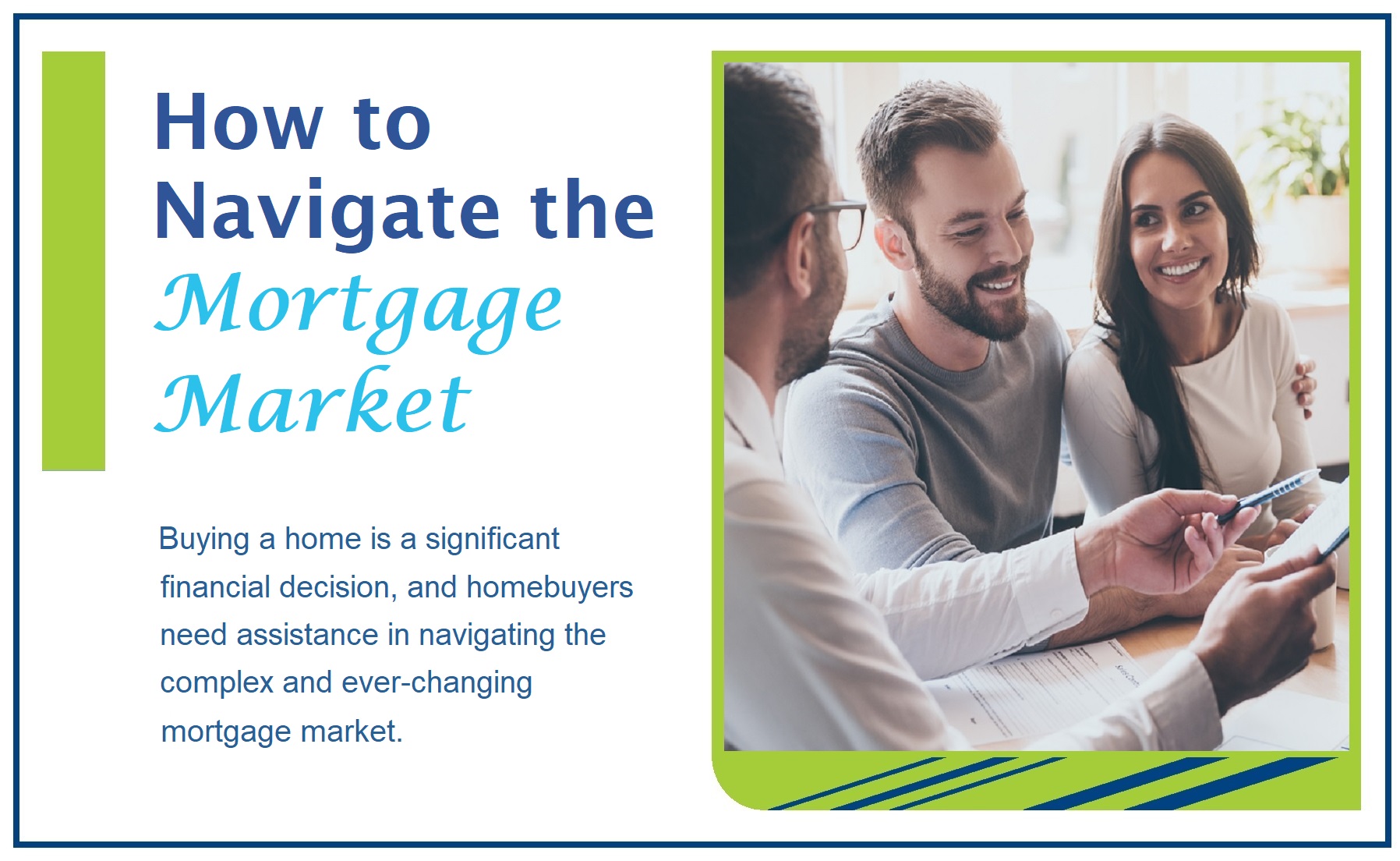 How To Navigate the Mortgage Market
Buying a home is a significant financial decision, and securing the right mortgage is crucial to the process. While some individuals choose to work directly with lenders, others prefer the expertise and guidance of a mortgage broker. The role of a mortgage broker is to assist homebuyers in navigating the complex and ever-changing mortgage market.

Expertise and Market Knowledge: Mortgage brokers are professionals with in-depth knowledge of the mortgage industry. They keep abreast of current market conditions, trends, and lending options. This expertise allows them to provide valuable insights and tailor their services to match the unique needs of each borrower.

Access to Multiple Lenders: Unlike loan officers employed by a single financial institution, mortgage brokers work independently and have access to a network of various lenders. This diverse range of lending options means they can shop around on behalf of their clients to find the most favorable terms, interest rates, and loan packages available.

Personalized Financial Solutions: Every homebuyer's financial situation is different, and what works for one individual may not be suitable for another. A mortgage broker takes the time to understand the client's financial goals, credit history, and long-term plans. With this information, they can recommend tailored mortgage solutions that align with the borrower's needs and preferences.

Streamlining the Application Process: Navigating the mortgage application process can be overwhelming, with numerous documents to gather and extensive paperwork to complete. A mortgage broker acts as a liaison between the borrower and the lender, simplifying the process and ensuring that all necessary documents are submitted accurately and on time.

Negotiating on Your Behalf: Mortgage brokers are skilled negotiators, advocating for their clients to secure the best possible terms and rates. Their established relationships with lenders often give them an advantage in obtaining competitive offers, which can save the borrower money over the life of the loan.

Transparency and Clarity: Understanding the intricacies of mortgage agreements can be challenging for the average homebuyer. A reputable mortgage broker takes the time to explain all aspects of the loan, ensuring their client comprehends the terms, fees, and potential risks involved.

Saving Time and Energy: The process of finding the right mortgage can be time-consuming and exhausting, particularly for first-time homebuyers. By working with a mortgage broker, borrowers can save valuable time and energy, allowing them to focus on other essential aspects of the home buying process.

Partnering with a mortgage broker offers numerous benefits for homebuyers seeking the best mortgage solutions. From expert advice and personalized financial guidance to access to multiple lenders and streamlined application processes, mortgage brokers play a pivotal role in helping borrowers navigate the complexities of the ever-changing mortgage market. When considering a home purchase, enlisting the services of a DLC Ideal Mortgage Broker can prove to be a valuable investment, leading to more favorable terms and a smoother home buying experience.
Share This Page On: